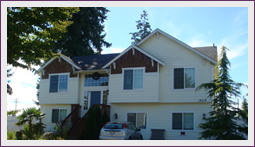 Manaois, Carolyn M.
Owner/Administrator
18519 Stone Ave N
Shoreline, Washington 98133
view map & directions
Amenities

We have amenities that cater to your specific needs. We make sure that we respect your privacy in everything we do for you. We provide spaces that will help you maintain your sense of self-identity.
Included in our amenities are:
Your choice of private or shared rooms

Dining area where delicious home cooked meals are served

Living room

Outside patio area

Security alarm system for added security

Nurse call light system for each resident

Transportation arrangements to appointments

Library visits

Salon visits (as needed)

Swimming pool once a week

Stroll around the neighborhood or on the interurban trail

Classical music for resident's enjoyment

Weekly entertainment and activities

Children and Pet therapy

Birthdays and Holiday celebrations

Afternoon Tea

Kareoke night

Bingo night

Movie Night

Scrable Night

Puzzles or what other hobbies you might like to do.

We are also 5 blocks away from the Senior center where you can take part in their activities as you desire.

YMCA is two blocks away.

We are close to shops to go explore
We invite you to experience the happiness of living in our home. Here at Best Care Manor, we welcome you to enjoy our amenities that will help bring out the best in you. To know more about our home, please send us a message.