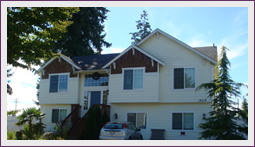 Manaois, Carolyn M.
Owner/Administrator
18519 Stone Ave N
Shoreline, Washington 98133
view map & directions
What We Do

Our services include:
Laundry and House Keeping;Vital signs and health monitoring;Medication Supervision; Home cooked meals and snacks;Phone;TV and cable; Weekly activity program; 24 hour RN on call; Children and Pet therapy; Pastoral visits upon request.
We offer personal assistance you can truly depend on.Once they move in, they become a part of our family. They will have the freedom to decorate their room to their own specification. In addition, this allows more privacy for family visits. We encourage families to be involved in providing a care plan for your loved ones to help meet all their needs .
It is our goal that from the time they wake up to the time they turn in at night, you can feel secure that your loved ones have been well cared for.
An advantage to having a small care setting, like our home, helps provide a more consistency of care where we can better monitor small turns in their health and give prompt attention.
We insure your safety by doing background checks on everyone in the home including all caregivers and all visitors.
Our caregivers are certified in Mental health, Dementia Care, Nurse Delegation, CPR, Food Safety and trained in emergency protocols.
Our caregivers undergo continuous training to keep up with our patients changing health care needs and to insure we are in compliance with DSHS regulations. If you would like to know more about the services that we offer, please call us anytime at - (206) 542-8123. Thank you!